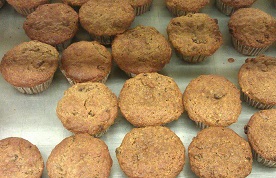 Our legendary Raisin Bran muffins
****CANCELED FOR 2022****
Join us for an all-you-can-eat breakfast featuring eggs, pancakes, hash browns, sausage, and the best muffins around. All the other fixins' will be there, too. Check out our photo gallery here.

Santa Claus will be there ready to hear what's on your child's Christmas list. He'll also happily pose for pictures with the children and adults. After all, you're never too old to have your picture taken with Santa Claus!

Get your tickets before the event by contacting any board member you know or by calling the office at 215-736-2861. Tickets will also be available on the day of the event at the door.
Annual Raffles
During the Breakfast with Santa event, our board members and volunteers will be selling raffle tickets for your chance to win one of three exciting and valuable prizes. Prizes in previous years have included gift cards valued at up to $500, sporting events tickets, and more. Raffles cost $1 each. Winners are drawn at our annual Holiday Open House event.